Training Program
Click here to see one of the previous training programs:
The program consists of three 1,5 hour classes per week headed by two experienced coaches. No previous boxing experience is needed.
All candidates go through a very extensive 12-week training program, which is divided into 3 phases and designed especially to prepare candidates for the final night after 12 weeks of boxing training.
The first 4 weeks are designed to teach you a proper basic boxing technique and focus on light contact drills, which will be crucial to continue with the following advanced training program. Between the 4th and 8th week, candidates will start with first sparring sessions and conditioning drills. At the start of 9th week which is the last phase, chosen participants will know who their opponent is and the group will be split into 2 teams. The last 4 weeks before the final night the training program will be focused mostly on the strategy along with sparring sessions and conditioning.
Boxing gloves and hand wraps are required for all boxing classes except for the first three classes if you are a complete beginner.
Head Coach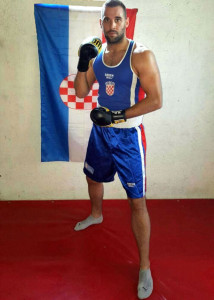 Goran Martinovic
(born on 19 September 1987, 6 ft 5 in or 197 cm) has started with boxing and wrestling from an early age. He counts with a broader experience of 15 years of Boxing, Savate Boxing and Greco-Roman Wrestling, competing extensively in 42 Boxing fights, 21 Savate Boxing fights and 53 Greco-Roman Wrestling fights in Heavy Weight category.  He was twice Croatian Champion, once Champion of Zagreb league and has won the third place on the International Boxing EABA "Tournament of Peace – Aco Stankovic" as a member of Croatian National Boxing team. Goran is still active in Greco-Roman Wrestling and during the last 3 years he has focused on coaching in the well-known Ranc Training Center in Croatia, where some of the most famous Croatian boxers and wrestlers such as Filip Hrgovic, Bozo Starcevic and Anton Djok have been training.
For further information please do not hesitate to contact us by email at: